We have a wide range of options to match the food quality and cost you are looking for.
Our sensational cooks will provide you with a meal to remember at your Barefoot Bowling event! Our range of platters and BBQ meals are sure to tantalise the taste buds of your friends, co-workers and family.
Chef's super-sized platters include fresh fruit, cheese, antipasto, bruschetta, cold meat, asian inspired party food, vegetarian and our amazing gourmet platter which includes black caviar and fresh proscuitto.
We also have BBQ packages of Bronze, Silver, Gold and Platinum, all designed to suit your requirements and budget. Our meats are delivered fresh daily from our gourmet meat supplier in Richmond, while all of our salads are made from fresh market products.
We take no short-cuts on the quality of our food – you will not be disappointed!
To download our catering menu, click Here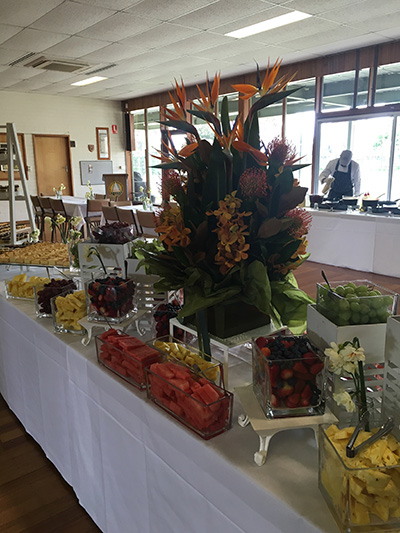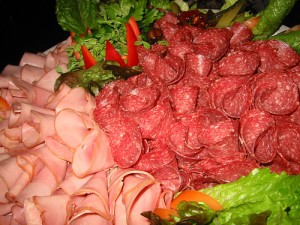 Fresh Fruit (64) Pieces
Six varieties of fresh seasonal fruit sliced and served chilled.
$69.00
Antipasto (176 pieces)
Olives, Sundried Tomatoes, Pickled Onions, Gherkins, Prosciutto, & Crackers
$99.00
Cheese (6 Cheeses)
Six varieties of Local and international Cheeses with Grapes and Cracker.
$89.00
Cold Meat (72 Slices)
Silverside, Ham, Salami, Turkey, and Prosciutto served with Crackers
$89.00
Asian inspired (80 Pieces)
Curry Samosas, Mini Spring Rolls, Money Bags, served with Sweet Chilli & Soya Sauce
$79.00
Vegetarian (72 Pieces)
Mini Quiches, Ricotta and Cheese Pastizzis, & Grilled Mushrooms
$70.00
Party Food (72 Pieces)
Party Pies, Sausage Rolls, & Cocktail Frankfurts served with BBQ and Tomato Sauce
$69.00
BBQ PACKAGES (Min 20 PEOPLE)
Choose from Bronze, Silver, Gold ,and Platinum depending on your budget and requirements. Packages are set menus and changes may incur additional cost.
Food cooked and presented as a Buffet style ' help yourself'
Gluten free, Halal and Vegetarian options are available on request
We take ABSOLUTLEY NO SHORTCUTS on quality of our produce!
Catering is done as set numbers and any changes NOT advised at least 48 hours prior to the event, will be charged at the original numbers
BRONZE BBQ PACKAGE
          $20.00 per person
Our bronze package is a great solution for a yummy feed during your event at Brighton Bowling Club. It is a budget option that will ensure you keep your total costs down. Our flavoured sausages and homemade beef burgers star alongside homemade salads and a beautiful fresh French Stick.
| Meats | Salads |
| --- | --- |
| Australian Beef Sausages | Coleslaw |
| Homemade Beef Burgers | Green Salad |
| Satay marinated Chicken Wings & Drumettes | Spinach, Strawberry & Cranberry |
SILVER BBQ PACKAGE
          $30.00 PER PERSON
Our Silver package goes to the next level, including all of the bronze package selections, we add BBQ steak, and our famous marinated chicken steaks. When topped off with fruit salad and cream, it is no wonder the silver package is our most popular!
| Meats | Salads |
| --- | --- |
| Australian Beef Sausages | Coleslaw |
| Homemade Beef Burgers | Green Salad |
| Marinated chicken Wingettes and Drumettes | Spinach, Strawberry & Cranberries |
| BBQ Steak | |
| Marinated Mini Chicken Steaks | |
Dessert
Fruit salad and Cream
GOLD BBQ PACKAGE
          $40.00 PER PERSON
Our Gold BBQ package is sure to remove any rumble in your tummy! With everything from the Silver package included, we start you off with a great selection of cheeses as an appetiser. We then upgrade your steak to a beautiful fresh Porterhouse, with roast potatoes, then top it off with a fresh fruit platter.
Entrée
Cheese Platter on Arrival.
| Meats | Salads |
| --- | --- |
| Chipolatas | Roast Potatoes |
| Homemade Beef Burgers | Coleslaw |
| Marinated chicken Wingettes and Drumettes | Green Salad |
| Porterhouse Steak | Spinach, Strawberry & Cranberries |
| Marinated Mini Chicken Steaks | |
Dessert
Fresh Fruit Platter or Fresh Fruit Salad with Ice Cream
PLATINUM PACKAGE
          $50.00 PER PERSON
Rated last year as our most stunning BBQ package, the Platinum package is your answer to an Australian BBQ spectacular! On arrival you will be treated to a fresh cheese platter and a delicious antipasto platter. Once your taste buds are tingling, we will treat you to a memorable BBQ, including the amazing meats of our Gold BBQ, and we add beautiful plump Tasmanian Prawn skewers cooked on the BBQ for maximum flavour. Accompanied by salads, the seafood shines with our other BBQ'd meats. Topped off with a selection of Australia's finest fruits, the Platinum package is the answer if you are out to impress! We challenge you to find a bowling club with a better BBQ!
Entrée
Cheese Platter and Antipasto Platter on Arrival.
| Meats | Salads |
| --- | --- |
| Chipolatas | Roast Potatoes |
| Homemade Beef Burgers | Coleslaw |
| Marinated chicken Wingettes and Drumettes | Green Salad |
| Porterhouse Steak | Spinach, Strawberry & Cranberries |
| Mini Chicken Steaks | |
| Chicken Skewers | |
| BBQ'd Tasmanian Jumbo King Prawn Skewers | |
Dessert
Fresh Fruit Platter or Fresh Fruit Salad with Cream / Ice Cream