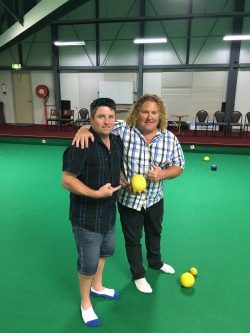 Barefoot Bowls
Brighton Bowling Club hosts barefoot bowling all year around. There are very few days throughout the year where we can't accept bookings. Importantly, being indoors means you'll never have to worry about the weather ! This is an exciting way for a group of friends, co-workers and family to enjoy a day on the green, and we cater for group sizes up to 160 people.
Whilst its called 'barefoot bowls', you actually don't need to be barefoot to play. Some people prefer to play in socks, or, if you have shoes with a completely flat sole without any ridges, you may be able to play in these.
Part of the fun of barefoot bowls, is being able to enjoy a drink whilst you play (n.b. you are not allowed to take your drink onto the greens). We maintain a fully stocked bar (i.e. beers, spirits, wines and non-alcoholic drinks) with lots of designated areas (indoor and outdoor) where you can drink with your friends and colleagues.
We also provide various catering options to suit everyone's palate – everything from beautiful fresh platters to a gourmet seafood BBQ grill. We have menus to suit everyone's taste and budget, and it's all managed within the comfort of the Club's facilities. Choose from one of our Catering Options
Your event will be looked after very closely by one of our very friendly Brighton members. They will provide basic tuition to ensure you get the best enjoyment possible for the level that you're at. We run fun games with prizes and giveaways, and allow you to use our coloured bowls, which are a little easier to handle for the beginners. (n.b. no other Clubs in Melbourne supply coloured bowls for barefoot bowlers).
Rates are $20 per person for up to 2 hours bowling. This price includes bowls hire, green fees, tuition, games and giveaways. Children under 16 years are half price, and we have special sized bowls for children under 10 years to use. (n.b. some parent supervision is required for under age groups)
Upon confirmation of your booking, we will issue you with an invoice for catering and barefoot bowls. (n.b. you will be required to meet the full cost of the invoice prior to your event being held). We accept credit cards and cash being used as a bar tab on the day, however we do not accept AMEX.
For more information on Barefoot Bowling, please contact us by either emailing the Event Application form below, or phoning the Club on 8520 9699. We'll also arrange a site visit before your function if you desire.
Social Bowls
Brighton Bowling Club holds regular 'social bowls', allowing players with various levels of competitiveness and ability to play against each other in a less serious or intimidating event.
This is the perfect way to start playing bowls, because it allows you to bowl a few 'ordinary' ones, and play different positions within a team, without the pressure of a pennant match where you don't wish to impact your 15 team mates.
Every Tuesday we run a Triples competition. The games start @ 10.30am and goes through until 2.30pm. You will play two games with cash prizes for the winners and runners up. The day is managed by long standing member Alan Topp and he can be contacted on 0400 682 377
On Thursdays we hold a Fours competition. The game starts @ 10.00am and goes through until 1.00pm. You will play one game with teams made up by the Manager on the day – normally Josie Bail who can be contacted on 0418 347 791.
For details on all upcoming social bowls, please refer the Events Calendar for the dates of each event.